Information Session- Industry Trip to Brussels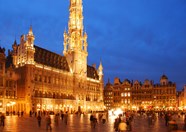 Register your interest for the Professioinal Life Industry trip to Brussels.
You will depart London St Pancras early morning on Thursday 13th February arriving mid morning in Brussels.
You will then have a day of industry tours, followed by an overnight stay.
On Friday 14th February you will then have another day of tours and activities before departing Brussels late afternoon.
Possible industries you may visit include (subject to change):
- Jannssen Pharmaceuticals
- DHL
- EU Parliament
Here will will tell you about the registration process and confirm details regarding the trip.
Following this meeting registrations will then open.
Aimed at
CBASS Students
Aims & Objectives
Next date
You must login to see and book workshop dates.
Login
No dates available
There are no dates currently scheduled for this workshop.